Shopping Cart
Your Cart is Empty
There was an error with PayPal
Click here to try again
Thank you for your business!
You should be receiving an order confirmation from Paypal shortly.
Exit Shopping Cart
What's done in the Dark, Comes to the light...
It never ceases to amazing me at how God speaks to me... I was sitting at my desk at work just working along and out of no where I hear God say, Everything done in the dark comes to the light. I said ok. yes sir. Then He said, All were born in sin and trespass. I stopped working at this point because I felt he was trying to tell me something bigger than just an inspiration for the day. So I grabbed a pen and started writing down the scriptures he said. It went like this:
Everything done in the dark comes to the light.
All were born in sin and trespass.
Ecclesiastes 7:20 - For [there is] not a just man upon earth, that doeth good, and sinneth not.
John 11:10 10But if a man walk in the night, he stumbleth, because there is no light in him.
John 3:19-22 19And this is the condemnation, that light is come into the world, and men loved darkness rather than light, because their deeds were evil. 20For every one that doeth evil hateth the light, neither cometh to the light, lest his deeds should be reproved. 21But he that doeth truth cometh to the light, that his deeds may be made manifest, that they are wrought in God.
Isaiah 9:2 - The people who walk in darkness Will see a great light; Those who live in a dark land, The light will shine on them.
1 John 1:5 This then is the message which we have heard of him, and declare unto you, that God is light, and in him is no darkness at all.
Genesis 1:3-4 (KJV) "Thy word is a lamp unto my feet, and a light unto my path.".
John 1:1-5 In the beginning was the Word, and the Word was with God, and the Word was God. The same was in the beginning with God. All things were made by him; and without him was not any thing made that was made. In him was life; and the life was the light of men. And the light shineth in darkness; and the darkness comprehended it not. There was a man sent from God, whose name was John. The same came for a witness, to bear witness of the Light, that all men through him might believe. He was not that Light, but was sent to bear witness of that Light. That was the true Light, which lighteth every man that cometh into the world. He was in the world, and the world was made by him, and the world knew him not. He came unto his own, and his own received him not. But as many as received him, to them gave he power to become the sons of God, even to them that believe on his name: Which were born, not of blood, nor of the will of the flesh, nor of the will of man, but of God. And the Word was made flesh, and dwelt among us, (and we beheld his glory, the glory as of the only begotten of the Father,) full of grace and truth.
(Brothers & Sisters, this is referring to Jesus being God manifested in the flesh & being the light of the world.)
After He said this, it seemed to me that he shifted gears because the next scripture I heard in my mind was Romans 14:11 (Jesus Speaking in this scripture) For it is written, As I live, saith the Lord, every knee shall bow to me, and every tongue shall confess to God.
But then I heard a whisper, softer than the scriptures that ran thru my mind... He said, All things done in the dark shall come to light. Sin brings darkness. We are all born in sin and trespass therefore we are in the dark from birth. Jesus is God manifest in the flesh and God is light. Therefore, manifest in the flesh He is still light in the man Jesus Christ. He said in the last scripture that he gave me that every knee shall bow and every tongue confess to God. All of a sudden the revelation came to me, We are born in darkness and one day we shall ALL stand before the light (Jesus). How we come to the light is up to us. Either we choose to Repent, Be baptized in Jesus Name (coming to him) and He fills us with His Spirit and walks with us thru the rest of our lives or we choose the hard road and meet him upon death to be judged but no matter what... We all must come to the light. WOW... My invitation to you today is "come"... Come to my sweet Jesus. In Him is fullness of life, He is the light of the world. Come to him. Even if you have been walking with him for years find time to come to him today. Spend quality time with him today. Find a place of prayer with Him today and build your relationship with him. He told the men in Matthew 7:21-2321 Not every one that saith unto me, Lord, Lord, shall enter into the kingdom of heaven; but he that doeth the will of my Father which is in heaven. 22 Many will say to me in that day, Lord, Lord, have we not prophesied in thy name? and in thy name have cast out devils? and in thy name done many wonderful works? 23 And then will I profess unto them, I never knew you: depart from me, ye that work iniquity. So it was not so much about their works but their relationship with Jesus that mattered to Jesus. He said I KNEW you not. He had not relationship with them. We must come to him fully and have a relationship with our Heavenly Father. He is our light, our love, our all and all. So my invitation again today is simply, "come".
I pray this reaches the right person and the right heart today. Only we truly know where we are in our walk. I know it touched my heart deeply and I know I have room for improvement. Please pray for me as I pray for you and we will make it thru. My love and prayers to each of you.
Food for thought from the desk of:
~*Sister Soldier*~
Hello All,
I just wante to take a moment to share with you a testimony of God's hand at work in the life of one of the members of our Freedom Ministry Outreach Church.  He expressed to me in an email his concerns about the young men in his dorm constantly physically and verbally fighting each other.  The conflict in his dorm was so bad that he said it was unbearable to see these young men constantly hurting each other.  He asked my advice on how to reach them to speak to them about the fighting.  As I was writing him back letting him know that my husband would most likely be the better one to talk to about this situation I began to hear God's voice.  I expressed to him what I heard and saw in my mind from God.  I told him I saw a man sitting at a table alone in the middle of a dorm reading the Bible and praying.  Around him was conflict and other men fighting.  Then as I was writing this to him I saw in my mind the power of God fall from Heaven like water and fire mixed together.  It hit the man but didn't hurt him.  Then if was like it flowed through him and out into the room like a cloud.  As the cloud hit the men that were fighting they were so impacted by the presence of God that they stopped to see what had touched them.  I told him I think this is what God wants you to do.  I sent the email to him and a few days later I received one in response.  Sure enough he had tried what I felt God told me to share with him to do.  He said as he sat there in the middl of the room with his Bible quietly praying, feeling a little out of place, two young men walked up to him and said "do you mind if we use this table to play cards after you finish reading and spending time with God?"  He answered and said "yes of course you can." Then he said he asked them, "Hey, do you guys know God?"  One said "yes but I don't know anything about this Jesus."  He asked the man if he would like to know.  The man answered yes.  He said this opened a door for him to be able to share with these two young men the word of God and pray with them.  He also said one of the men was one of the main ones starting conflict in the dorm.  He told me at the end of the email that another one of the men on the dorn that was causing most of the conflicts was moved out of the dorm.  What a mighty display of God's power in response to this man's acts of obedience.  God is so faithful and all it takes is for us to open up and allow HIM to flow thru us.  Just wanted to share this mighty testimony.  What a blessing to see God working in these men's lives like this.  God is so good.  Amen. 

Lunchtime Live with ~*Sister Soldier*~
"Our life is a potential hand-me-down for the Glory of God"
Just like clothes that we out grow, loss weight and get to small for or just don't wear enough to keep that become hand-me-downs our life is a hand-me-down too. How the clothes we pass on are treated during the time we have them determines the value they hold when we hand them down or pass them on to someone else. Our lives are the same. How we live our lives should be at such a level that it's quality is high enough that others should say, I want her/his life. I want what they have. I desire the walk they have with God. In Isaiah 55:3 it speaks about the sure mercies of David and how God made an everlasting covenant with him. When we speak of the mercies of David we see that 400 years after David's death God was still sparing his generations for "David's Sake", is what the Lord said. David lived his life in a way that he could hand his mercies from God down because His life was a testimony unto his love of God. David was a terrible sinner but he was a great repenter. David was referred to as a man after God's own heart. We see through the scriptures that his life was lived in such a way that it became a "hand-me-down" to his generations. My questions to you is Will you walk in such a way that your life, submitted to God's Word and His will, will be desired and can be safely handed down to the next generation? Will you lay a foundation that your generations to come can stand on? Will you fight for what they need to be alive in your life so when your life is passed on to them they can stand up in the paint and stand the test of time and make it to heaven? We should live in such a way that our generations and the lost that we reach can live on what we give them and stand on the truth that we lived under and showed forth a testimony of through our Lord and Savior Jesus Christ.
So as I go through my life, I try to keep in mind am I living in a way that I can hand down to my children (natural/adopted & Spiritual) the values, beliefs, thoughts, spiritual foundations and convictions? Am I living in a way that I can Hand ME Down to them? Will my life be a legacy or a tragedy? Will my memory be sought after to gain strength from or will it be just a rumor passed back and forth at family reunion as what not to do with your life? Will my life be such that I can Hand ME Down? That is my question for you today... Are you living in such a manner that your life can Hand YOU Down to your generations? Will your life be a legacy or a tragedy?
Just a little food for thought for today...
From the desk of:~*Sister Soldier*~
"Foundational building blocks of our Faith"
As children we play with blocks and learn how to build with blocks, Legos and Lincoln logs. We learn how to stack them and learn which form stands firm and which will fall over. We stack them, and they fall then we restack them with a little better foundation, so it doesn't fall next time. One thing that came to mind is even though we fix our foundation and build again when/if our building falls we never give up on rebuilding because it helps our mind grow and learn. As children we call it playing. As adults we call it growth. Whether it be in the natural world or in our spiritual walk with God, we live day by day building the foundation that our destiny and eternity stands on. Which brings me to the subject God gave me for today's lunchtime live.
I want to talk to talk to you today about the foundational building blocks of our faith. As we walk with God we start out with baby steps and we set a foundation that we think is strong, yet we hit a bump in the road and fall. When we build on our own foundation (ideas, plan, schedules, programs, talents, education, natural abilities) we fall every time. When we build on the foundation of Jesus Christ, we will stand forever. 1 Peter 2:6 says, "Wherefore also it is contained in the scripture, Behold, I lay in Sion a chief corner stone, elect, precious: and he that believeth on him shall not be confounded." It also says in Ephesians 2:18-22 "For through him we both have access by one Spirit unto the Father. Now therefore ye are no more strangers and foreigners, but fellowcitizens with the saints, and of the household of God; And are built upon the foundation of the apostles and prophets, Jesus Christ himself being the chief corner stone; In whom all the building fitly framed together groweth unto an holy temple in the Lord: In whom ye also are builded together for an habitation of God through the Spirit." Jesus is the chief cornerstone of the foundation. In Luke 20:17 it says, "And he beheld them, and said, what is this then that is written, the stone which the builders rejected, the same is become the head of the corner?" Jesus is the rejected stone that became the chief cornerstone of our faith. So now let's look at faith. Hebrews 11:1 says "Now Faith is the substance of things hoped for and the evidence of things not seen." It is the title deed for things we are promised in God. We must learn to build on the firm foundation of Jesus Christ and not on our own foundation to be able to obtain the promises of God and build our faith in Him that we might reach our ultimate goal, which is an eternity with Jesus in Heaven. The Bible says in Proverbs 3:5-6 "Trust in the LORD with all thine heart; and lean not unto thine own understanding. In all thy ways acknowledge him, and he shall direct thy paths." It also says in Matthew 4:4 "But he answered and said, it is written, Man shall not live by bread alone, but by every word that proceedeth out of the mouth of God." We must learn not to depend on our talents and our natural abilities to progress in this walk we are on. Yes, these things are blessings from God, but we must never mistake the blessings from God with a true relationship with God. We must learn to build on everything that Jesus has given us but mainly our relationship with Him. He is our corner stone and we should keep him as the building point for all we do. Our relationship is what anchors us in the corner stone and keeps Him as our foundation for all the building blocks (testimonies) that He gives us. The building blocks of our foundation that begin with Him are our victories in Him, Miracles He has given us, testimonies of healings, deliverances, prayer victories for ourselves and others, winning souls to Him. Our day to day walk with Him and every victory He gives us is a building block. Every testimony He has given us is a new building block. Just like when we were children and we began to out grow our Legos and building blocks we moved into bigger toys and soon were grown and grew from Legos to Mason blocks on a new home. The same is true in our spiritual walk with God. When we are babes in Christ, Newly born Christians we have small victories that are beginner building blocks for our faith. As we walk with Jesus and our relationship grows stronger He will allow us to experience and see new things. He will give us victories and testimonies that are fit for our station and position in the kingdom of God. These then become our building blocks of faith that strengthen us to the calling He has placed on our lives. With each experience and testimony with Jesus and with each victory won even though we had to go through the battle to get to the victory, we are gaining a building block of faith. One step at a time we build on that firm foundation of Jesus Christ and walk into the destiny He has called us to. So I say to you today. Gather your building blocks. Weigh the cost and sink deep into your relationship with Jesus. Allow HIM to be your Chief Corner Stone to begin building on. If your faith has taken a hit and your "building" fell down. The bible tells us to get up. In Micah 7:8 is says "Rejoice not against me, O mine enemy: when I fall, I shall arise; when I sit in darkness, the LORD shall be a light unto me." So I say to you, get up. Start building again. Anchor your faith and your heart in Jesus, our Chief corner stone. Allow Him to have his way. Count the falls all joy that you will come our with a testimony, knowing that God truly does work all things together for them that love him and are called according to HIS purpose. Stand still and see the salvation of the Lord in your life. I say this in closing. Trust in our Lord Jesus. Allow your faith to be in Him. Do not look at the situation you are currently in, look to the hills from whence cometh your help. Look back at your past victories and allow them to be the building blocks you stand on to concur this current situation through your faith in Jesus Christ. Begin to build from right where you are knowing that God is with you. He said in His word He would never leave you nor forsake you. Trust in Him to keep you in everything. Build again and allow God to use your testimonies and victories that are now you building blocks to raise you into your destiny.
Just a little food for thought. I pray it helps you as much as it helped me. God bless you and keep you.
From the desk of:~*Sister Soldier*~
01/15/2020
Lunchtime Live with ~*Sister Soldier*~
"YOUR CURRENT LOCATION ISN'T AS IMPORTANT AS YOUR FINAL DESTINATION"
My prayer as I begin this is … Search me Oh Lord and see if there be any unclean thing in me!!! Lord am I too focused on this world? Am I seeking you with my whole heart? Oh, Lord draw me to you. Know me, try me and see if there is any wickedness in me.
OK, you know me well enough to know what the phrase "put your seatbelts on" means… So here we go… Being right with God is the greatest need we have today. It is not about where we are or who we are with. It is not about our job or our school. It is not about where we live or work or even where we go to church. If our heart is not right with God, we are lost. It ought to be the business of every day to prepare for our last day. If our final destination is not Heaven, our present location doesn't amount to a hill of beans. Brothers and sisters, stop focusing on the here and now and look to the hills from which cometh your help. Look to the eternal home of heaven with our loving King Jesus. That is all that matters. Do not look around you at this natural world for praise, applause, accolade or acceptance. This world is not our home, we are just passing through. The entrance into heaven is our final destination. It is not a spot in the choir, a seat on the front row on Sunday morning so everyone can see you walk in, nor a seat on the platform so everyone knows who you are. IT'S NOT ABOUT WHO YOU ARE, IT'S ABOUT WHO YOU BELONG TO. Who is your heart surrendered to? Is it the person that sleeps next to you? Is it surrendered to the voice of public opinion? Is it surrendered to the praise of the crowd as you sing or preach? Is it surrendered to fame and fortune? Is it surrendered to the lusts of your flesh? OR IS IT SURRENDERED TO THE KING OF kings, AND LORD OF lords? Who do you belong to? Do you belong to your flesh, this world, the opinion and approval of others? Or do you belong to the one that died for your sins so that you could be free through repentance and baptism in Jesus name and the infilling of the Holy Ghost? Who does your heart beat for? I ask this question because who your heart belongs to determines who you submit to and it also determines your final destination. When you buy an airplane ticket you don't just walk up to the counter cold and say, "oh, I think I'll go to Spain today." … NO, you make a plan. You get your HEART SET on going. Then you count the cost and you plan for the trip. WHAT ARE WE DOING TODAY? UGH… Are we just flying by the seat of our pants and thinking that our final destination will just automatically be Heaven? Are we expecting to walk up to the pearly gates and say, "Oh, I think I'll go to heaven today?" God forbid we have this mind set. God forbid we count Calvery with such low regard. Oh, my sweet Lord Jesus have mercy on us and please forgive us if this is our mindset. We must get our hearts set on Jesus and Heaven should be our desired final destination. The Bible says in 2 Peter 1:10-11 10Wherefore the rather, brethren, give diligence to make your calling and election sure: for if ye do these things, ye shall never fall: 11For so an entrance shall be ministered unto you abundantly into the everlasting kingdom of our LORD and Saviour Jesus Christ. We must plan for it. Our final destination is a choice. It is not about where we are right now. Don't allow your current physical situation or location become a crutch that you lean on all the way to hell. It's about our heart being set on where we WANT, DESIRE, NEED TO GO… What is your final destination? HEAVEN.
Oh wait!!! I heard that in the spirit. "Well, I'm stuck in this situation and I can't get out." My answer to that lying devil's voice from hell is, "you can do all things through Christ Jesus who strengthens you!" Make the choice to get up and walk away. Make the choice to do your best and get out. Make the choice to walk as a woman/man of God RIGHT WHERE YOU ARE so He can make you free where you are to obtain that final destination that your heart desires. OH wait, let me ask this question… Is Heaven your desired final destination? If not, may God have mercy on our souls and open our hearts and our spiritual eyes to see our destined end. Sorry, but not sorry! This is a matter of life and death. Heaven or hell. Our hearts should be set. Our minds made up that NOTHING is more important than being in the will of God. NOTHING IS MORE IMPORTANT THAN HEAVEN BEING OUR FINAL DESTINATION. ETERNITY WITH OUR LORD AND SAVIOR JESUS CHRIST SHOULD BE OUR HEART'S DESIRE. He loves us. He died for us. He sacrificed all so we could spend eternity with Him. You see, we have two worlds fighting over our soul. Heaven and hell. Jesus died for your soul and for you to achieve the goal of Heaven because he loves you more than himself. He paid the price so that we may be free. If I buy you a new car but you never come get the keys because you are too busy, too lazy, too tired, too good or too important to walk the path to my house and pick it up, it's still your car you just never took possession of it. You never fought your flesh or pride to walk over and get the keys and get in and possess the car. Jesus died to pay the price for your eternal entry into heaven and an eternal relationship with Him. If you never fight your flesh to get up and follow Acts 2:38 and repent, be baptized in Jesus name and receive the free gift of the Holy Ghost we will never reach the final destination of Heaven that he has died for us to have. We must strive to fight to obtain the goal of a relationship with Jesus and an eternity in heaven. As I said, two worlds are fighting over your soul. Jesus is fighting because he loves you. hell has done nothing to obtain your soul. made no sacrifice for your soul and has no legal right to your soul nor your life unless you give the devil authority through your acts of sin. Hell, the devil nor any demon he sends after you has any love for you, he only wants your soul to hurt Jesus and, with his goal to hurt Jesus, he uses us as pawns. You have the power to stop him. You and you alone can determine your destination. The CHOICE is yours. God will not usurp your human will. He came in the form of the man Jesus Christ and died on the cross, so you would have a free choice of heaven. He has paid the cost for our sins. He paved the way for our final destination… Heaven! NOW, the choice is ours to follow that path and reach the final destination of Heaven or to walk in our flesh and die the eternal death of hell. Again, it's not about our present location. It doesn't matter where you go to Heaven from. Be it a mansion on the highest hill no earth, a little log cabin in the mountains of West Virginia, a high-rise office where you are CEO or a jail or prison cell. It doesn't matter your physical situation or location… What matters is your final destination of Heaven or hell. It's a matter of your heart!!! It's time to submit to our Lord Jesus with our whole hearts. We can't be wrong with God and expect to embrace a scripture and ideal and have God be right with us. It is a relationship!!! Your heart getting in touch with HIS heart. It's time to pray that powerful but small prayer found in Psalm 139:23-24 Search me, O God, and know my heart: Try me, and know my thoughts: And see if there be any wicked way in me, and lead me in the way everlasting. So now, My Brothers and Sister… I ask you the very important questions of this… Where are you standing at the counter planning a trip to today? Who do you belong to? What is your final destination? Heaven or hell? Make your election sure Brothers and Sisters… Heaven is our goal. Look past your present situation or location. Keep in mind your current location doesn't determine your final destination. I bless you in the name of our Lord Jesus Christ.
Just a little food for thought… I pray that this message has helped you as much as it helped me.
From the Desk of: ~*Sister Soldier*~
Freedom Ministry Outreach Church - subsidiary of Sister Soldier Ministries
Published by Shawna Sister-soldier Sheffield · November 8 at 6:39 AM ·
Good morning everyone. I woke up this morning the first thing on my mind was have I ever burnt my finger I burnt myself. And after saying good morning Lord I answered him yes I have. I Heard in the back of my mind do you remember how it felt. I said yes it stings like your whole skin is on fire in that area not just on the surface but underneath all of your senses in that area are stinging. Then all of a sudden I had a picture in my mind of people I love in the Lake of Fire screaming people that care for people I work with people on the freedom Ministry just screaming standing in a lake of fire. I woke straight up out of my sleep. I sat Up on the edge of my bed and begin to pray "God have mercy don't let my children and my grandchildren and my husband or my self anyone I love go to hell"... all of a sudden there was such an urgency in my spirit for the people around me my coworkers people at the grocery store the people in my church how many understand that urgency what's the question burning in my mind. How many really realize that hell is a reality? Do our kids realize as they're caught up in this world in the things of it that hell is reality? do our parents who are still living realize that hell is a reality Do I realize hell is a reality? It's like God just shook me to my core and said where is your voice? Why are you sleeping in such a late hour? Who have you asked? Who have you asked are they going to Hell or Heaven lately? I began to repent and pray asking God to forgive me for not doing enough as the urgency to reach the Lost begin to grow in my spirit even deeper than it already was. I asked God what more can I do. I hear it in my mind even now as I write this, be that voice crying in the wilderness. Allow your voice to be like John's and let it be heard everywhere. Let that urgency burn in your soul to reach the Lost so that their souls don't burn for an eternity. Make Heaven a priority in your mind and in your heart and let that Pour out of you to others like rivers of Living Water. The Bible says in these last days at the hearts of men will wax cold. Ask God to burn a fire of the Holy Ghost in your heart let it burn for the Lost. Let it burn for your lost loved ones, your loss co-workers. Let that fire of the Holy Ghost burns for the ones that you see in your mind right now that are on their way to a Devils hell that will burn in a lake of fire. Imagine that time you burned your finger, your hand or your arm. Remember how it felt then, imagine your loved one burning from head to toe and the pain that they would feel in hell. Reality is what it is and hell is a very real reality that we must reach to save souls from. It's time to wake up. It's time to be that voice crying in the wilderness. Ask God two little love for the Lost burning your soul. better that it burn in your souls and their souls burn in hell. Ask God to create a hunger and a thirst in your soul for the things of Heaven and to be able to reach the Lost. I pray that God will awaken us and Shake us to the reality of how close we are to the coming of the Lord Jesus Christ. I asked for his mercy and his grace for us all. but as for me and my house as we walk into this day I feel that fire burning in me To the point of tears at the thought of anyone being lost. I pray that each of you have a good day and I pray that each of you walking to this day with the fire of the Holy Ghost burning in your soul I know this message is not my normal message this is what I woke up to this morning I pray that it awakens you awakens your soul and melts your Stony heart. I love you all with the love of Christ. I pray that each of you find your place with God, repent be baptized in the name of Jesus Christ for the remission of your sins and you shall receive the gift of the Holy Ghost... that's what the word say. It also says lest ye be born again of the water in the spirit you shall not enter into the kingdom of God. To me that's urgent. let it become urgent to you as well. In the name of Jesus awaken. Let your voice be heard for the kingdom of God.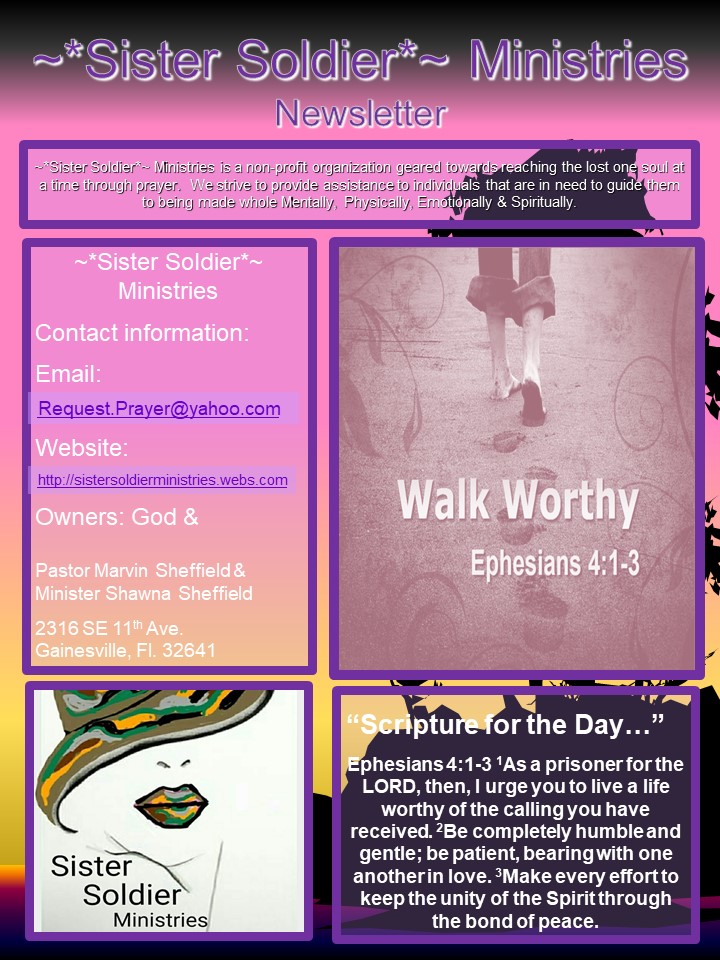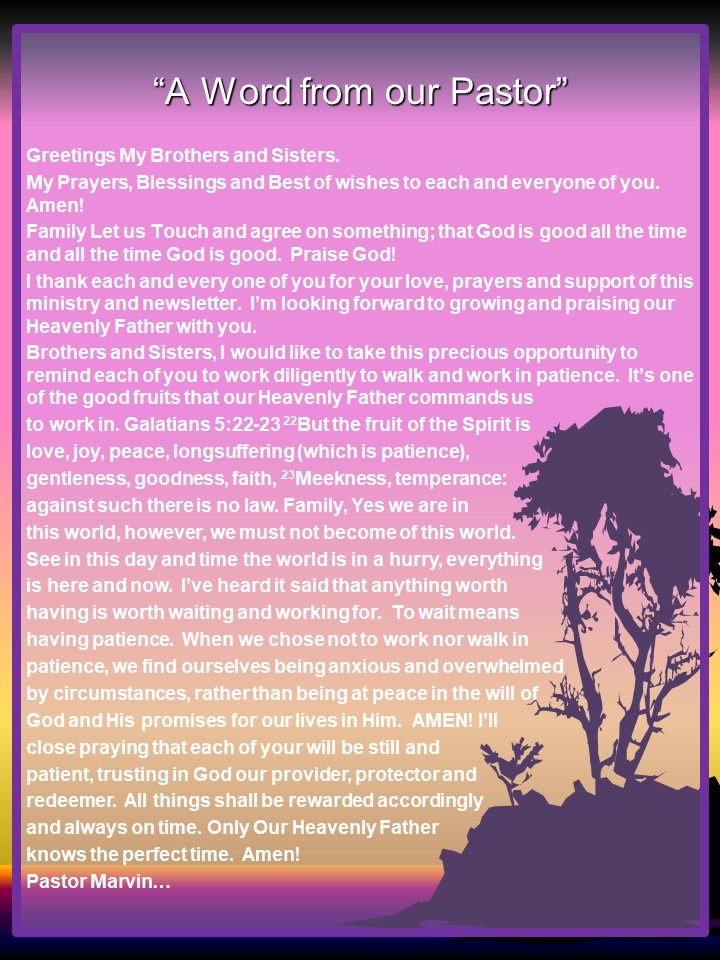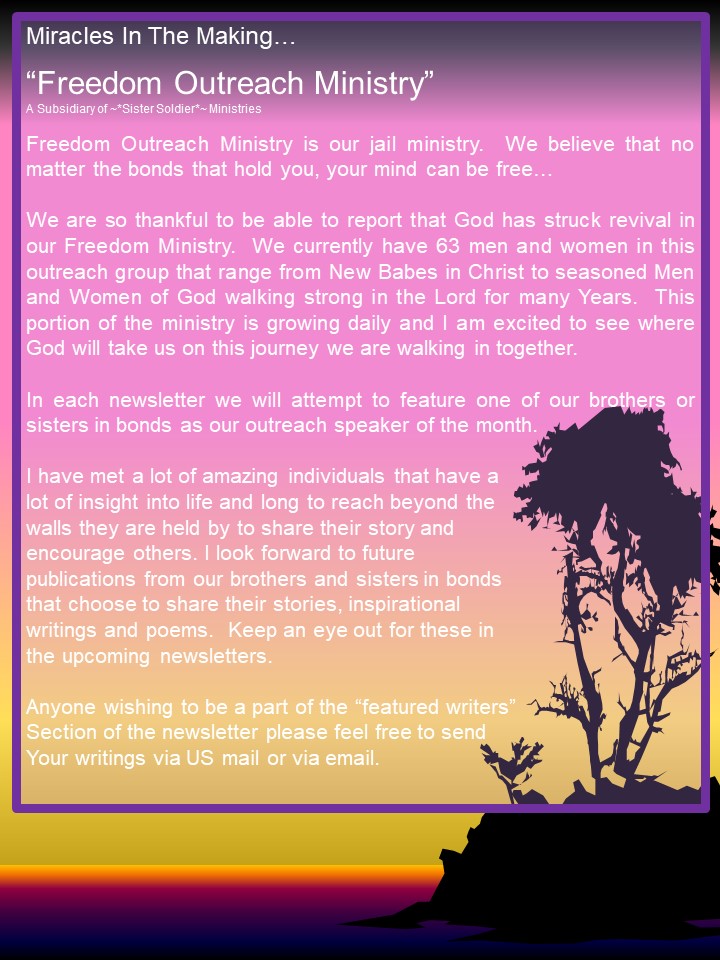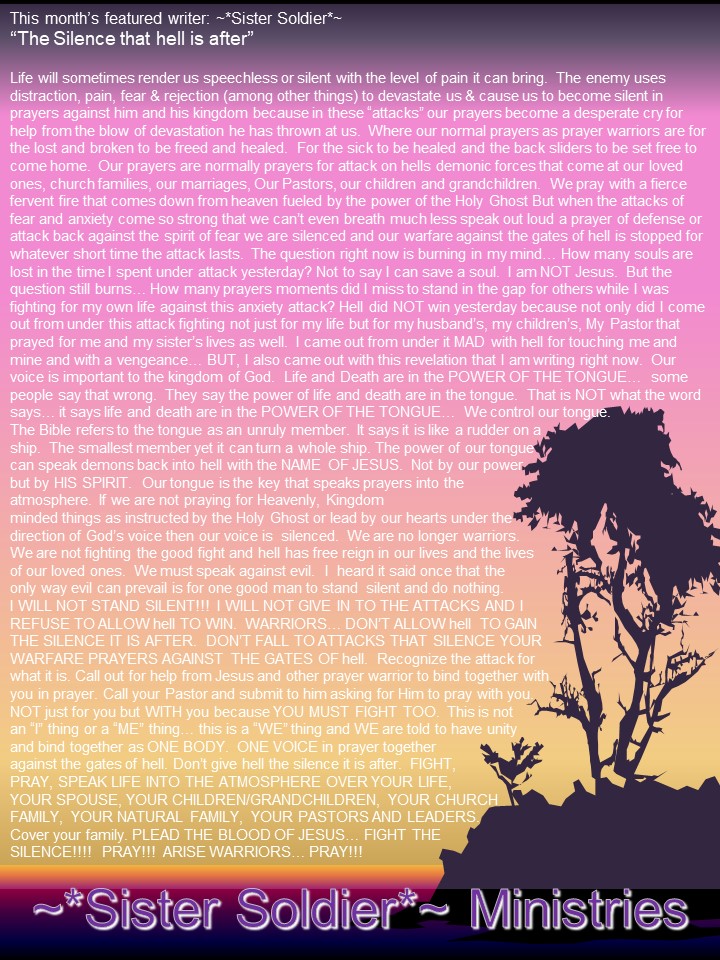 Good Morning My Brothers and Sister in Jesus Christ. I pray this finds you well and strong in our Lord Jesus for HE along is the true source of our strength. First, I would like to take a quick moment to thank each and every one of you for allowing Me, My Husband, Sister Robin and My Daughter-Mashayla to reach out to each of you and be a part of this great calling and commission that God has placed on our lives according to Hebrews 13:3. For each of you have become a great part of my heart and OUR walk with God. So for this, on behalf of the whole ministry, We Thank you.
Now for today's Lunchtime Live with ~*Sister Soldier*~ …
"Ye Shall have POWER"
I am going to start strong from the beginning so put your seat belt on. First, I would like to start by saying that when the devil attacks he will never use anyone that you are not connected to because the ones you are not connected to are not close enough to your heart to have access to the depths of your soul. Therefore, they can't be used to cause the damage that was meant to come to me this week. HOWEVER, the devil doesn't understand (I guess) that my love for the ones close to me runs deeper than anything he can throw at me. This past week I was faced with an attack that came in waves that seemingly crashed down on me like the ocean falling on the shore during a hurricane. It was unexpected, and One phase of this attack stemmed from something that I had no clue had taken place until after it had already happened, and I was indirectly blamed for it happening. The other phases of it were totally unrelated to this first part and they came in the form of communications that were supposed to be "playful" in nature but the spirit behind it was not playful. Now, let me clarify… when I say the spirit behind the communication was not "playful" I am not talking about the people the communications came from, I am talking about the devil that planned this attack and plotted against me to discourage me in what God has called me to do. Ephesians 6:12 12For we wrestle not against flesh and blood, but against principalities, against powers, against the rulers of the darkness of this world, against spiritual wickedness in high places. You see we must remember that when we as children of God are filled with the Holy Ghost and walk with God fully submitted we have power in us that we don't even realize the depths of… We must understand that there is a power that comes with our speech. This scripture says in Proverbs 18:21-24 21Death and life are in the power of the tongue: and they that love it shall eat the fruit thereof. Truly… death and life are in the POWER of the tongue. The POWER… hmmm let's talk about that for a moment… The Bible says in Acts 1:88But ye shall receive power, after that the Holy Ghost is come upon you: and ye shall be witnesses unto me both in Jerusalem, and in all Judaea, and in Samaria, and unto the uttermost part of the earth. This power speaks of being a witness. The Holy Ghost gives us POWER to do all things through Christ Jesus who Strengthens us, but this particular scripture speaks of the POWER of being a witness. To be a witness we must use our words. Our Words hold POWER given to us by God. We must be mindful of every idol word. Every word we shall be held accountable for just as it says in Matthew 12:36-37 36But I tell you that everyone will have to give account on the day of judgment for every empty word they have spoken. 37For by your words you will be acquitted, and by your words you will be condemned." We also see in Ephesians 2:2-3 Wherein in time past ye walked according to the course of this world, according to the prince of the power of the air, the spirit that now worketh in the children of disobedience: Among whom also we all had our conversation in times past in the lusts of our flesh, fulfilling the desires of the flesh and of the mind; and were by nature the children of wrath, even as others. We must understand that we receive what is brought upon us by the good or bad use of our tongues. Those who love to talk, they shall receive either good or evil according to the quality of their words. We must also understand that our words can at times have spirits attached to them. When we are speaking under the direction of God, through the power of the Holy Ghost and we give encouragement or a word of knowledge or prophesy we are allowing the Spirit of God to flow through our words. When we hold idol conversations and sometimes even say hurtful things we are driven by a different spirit. (anger, bitterness, strife, deception, etc.) Our words give these spirits an avenue to be released into the atmosphere. It says in Matthew 26:53, (Jesus Speaking here)53Thinkest thou that I cannot now pray to my Father, and he shall presently give me more than twelve legions of angels? He said He has given us power to do as he did and even more according to John 20:2121Then said Jesus to them again, Peace be unto you: as my Father hath sent me, even so send I you. This scripture tells me that Jesus sent us forth to do as he did. John 14:12, 12Verily, verily, I say unto you, He that believeth on me, the works that I do shall he do also; and greater works than these shall he do; because I go unto my Father. He has given us power after the Holy Ghost has come upon us and here he says that the "works" he does we shall do also and even greater works than these shall we do. Matthew 4:10-11, 10Then saith Jesus unto him, Get thee hence, Satan: for it is written, Thou shalt worship the LORD thy God, and him only shalt thou serve. 11Then the devil leaveth him, and, behold, angels came and ministered unto him. (His words drove satan away.) Also, we see in Mark 1:27, 27And they were all amazed, insomuch that they questioned among themselves, saying, What thing is this? what new doctrine is this? for with authority commandeth he even the unclean spirits, and they do obey him. (A command requires a spoken word.) Luke 4:35. 35And Jesus rebuked him, saying, Hold thy peace, and come out of him. And when the devil had thrown him in the midst, he came out of him, and hurt him not. (A rebuke requires a spoken word.) Ps. 91:11 11For he shall give his angels charge over thee, to keep thee in all thy ways. (God commands his angels concerning us to guard us in all our ways. A command requires a spoken word.) So according to what I read here in the scriptures … If Jesus can call down twelve legions of angels, and He has filled us with HIS Spirit then by that POWER we can as well according to John 14:12 & John 20:21. The POWER of our words Open doors for Angels to move just as POWER of our words cast out demons. Even satan himself is driven by our commands. He has no power in our life unless we give it to him and how do we do that? With our confessions… our WORDS.
Our words when they are spoken in the power of the Holy Ghost become an avenue for God's spirit to flow. However, we must remember that our words when spoken in the flesh or driven by "other" spirits can become an avenue for evil to flow into someone's life as well. This is why we MUST mind our words. Remember this… satan is the ruler of the air. Our words go out into the air (spoken or written) and birth out life or death. This means either we are releasing love and strength or death and demons. We have POWER in our words and angels are moved by our words into action but so are demons. Demons are fallen angels. Therefore, if our words move the heavenly angels they also move demons just like when the disciples cast out demons. Their words had power over the demons. When we speak, or even write emails or texts they go out over the airways just like TV and radio. The internet is run over the airways. Well we know from scriptures that satan is the prince of the airways. Therefore, we must mind our words. When you are called to be a Preacher, Teacher, Prophet, Singer, Mentor, Minister in any aspect or Prayer Warrior not matter your rank in this army, Please remember that your words hold power to command demons to go and angels to move. Your words WILL bring life or death. Therefore, we must be mindful of our words and how we use them. We are to be held accountable of every word we speak. That is how important God thinks our words are. We must also be mindful of the spirit in which our words are spoken or written. I have always been told it is not what you say but how you say it that sets the atmosphere of your encounters. We are driven at times by our emotions. Anger, Fear, Love, Happiness… etc. These emotions are sometimes driven or provoked by spirits that try to influence our reactions, behaviors and demeanor. If you have a negative attitude or feeling over your heart and you try to write a letter or speak to a person in person that spirit that is over your heart at the time will be conveyed. Whether we mean for it to or not because our words have power. They open a door for good or bad, life or death to be released. Not just in what we say but in what spirit we say them. For example, I can say "Good Morning" with a sweet voice and a smile on my face with a warm spirit about myself and you can feel the love flow from me. OR I can say "Good Morning" with an ugly look on my face, not making eye contact and a rough voice and it will make you step back from me and say wow, what's wrong with you? Because you can feel the negative spirit coming from me. Either way I have said "Good Morning" but one came with a spirit of life and one came with a spirit of death attached. It's just that simple. We either become a conduit for good or evil. It's our choice. This is why prayer and fasting are so important. They are not just lip service, they are vital parts of our daily walk in this world that is not our home. We must be open to hear God's voice so we can discern the spirits that are tempting us and at times walking with us. We must recognize our own fleshly voice from a voice coming from us driven by a spirit other than the Spirit of the Living God. In our walk we will hear three voices… The voice of God, Our own voice and the voice of our enemy the devil and his agents. WE must draw near to God so that when these voices come we will KNOW the voice of OUR FATHER IN HEAVEN above even our own voice. We are called to reach the lost. We must speak life. If we are speaking anything other than life we have become part of the problem. We are called to be peacekeepers. This requires words of peace and the Spirit of God to be allowed to flow through us. We must mind our words. We must be careful of the power we unleash in our own life and the lives of others. During the events of last week, I also was reminded of the importance of putting on the whole armor of God. The shield of faith that blocks the fiery darts of the enemy. Ephesians 6:16 Above all, taking the shield of faith, wherewith ye shall be able to quench all the fiery darts of the wicked. These fiery darts can be and most times are words by the way… So, with that being said, I will say this. I bless you in the name or our Lord Jesus Christ. May the blessings of the Lord be upon you. May our Lord bless and keep you always. May He cause His face to shine upon you and guide each of us as we go forth as ambassador of Heaven to reach the lost and speak life to one another. May his hand guide our steps and direction in this journey we are on. Peace be unto you all and Joy forevermore. Please know that this is written Sincerely in the Love of Christ, with a humble heart, gained from experiences where I have had to apologize for my own words in part of this week's attack. My reaction was not always what it should have been because some of it came from a place of pain. I am the first to admit when I am wrong, but God in his great mercy and grace always teaches me a lesson that I can grow from and share to hopefully help others to grow from as well. If my pain can be the stepping stone for others to never feel this way, then I count it all joy.
Love and peace from the desk of:
~*Sister Soldier*~
"Faith In God"
Hello Brothers and Sisters, I pray that this finds each and everyone of you doing well & in the very best of Spirits. Praise God!!
Family, I take great pleasure and I am honored to have this moment to share a bit of our Heavenly Father with you, at the same time, to encourage each of you to diligently "walk in Faith".  You see Often times we spend more time and energy focusing on the circumstances surrounding the situations we face, rather than the word of God, His promises to those who love him, the ones who hear His word, keeps and follows His commands.
By Measure of faith so is the measure of your outcome in your situations.  Take all to God and Leave it there.  Don't take it back with and in unbelief.  "It's by faith we walk, not by sight." 2 Corinthians 5:7. The way we may see things or want them to go may not line up with the will of God.  Trust and believe that our Heavenly Father knows the best outcome for us and far better than we can ever imagine.
Family, if we don't chose to move our self out of the equation, by recognizing our limited power and acknowledging His, "God's" endless power then we live in fear.  That is in another god, not the living God.  There is no fear in the one true God, whom we serve.  Amen!
After all is said and done the finality is for peace & prospority.  Here on earth our Faith, Trust and Belief must be in and only in our Heavenly Father, His commands and promises.  Faith in God's way is the only way.  We must listen to His ever so small voice, then humble ourselves to his directives.  So today I say to you, "walk humbly and keep your Faith in God."
Sincerely,
Pastor Marvin

Hello All. 
I just wanted to share with you how the Lord is working in my life at this point.  I have been blessed over the past 8 years to walk in the mission field of a prison / jail ministry that God opened up for me.  Over the years I have written to many people in jail but over the past 8 months God has truly stepped into this ministry and revival has broken out.  With the help of my Husband Marvin, Our Daughter Mashayla and Sister Robin We are currently writing to 95 men and women who are incarcerated at this time.    In this number of people God has blessed me to meet and become a part of men and women's lives that range from new babes in Christ to seasoned ministers and warriors in Christ.  I am very blessed to be walking in this calling on my life that God started after speaking the scripture Hebrews 13:3 into my spirit.  I am so humbled at the amazing journey that God has allowed me to be on with these wonderful individuals that at one point found themselves in a place in life where they did the wrong thing or made wrong choices that caused them to be incarcerated but now through His grace and mercy God has brought them to a place of surrender unto Him where they are now growing and leading others to the Lord.  I started this journey with the hopes of helping others and have learned over the months that God has used these wonderful individuals I have met to help and encourage me just as much as I have helped and encouraged them. 
In this ministry we send out a monthly Newsletter that features a section called "Featured Writer of the Month".  This section allows the members of our Freedom group to submit writing, sermons, poems, and articles they want to share.  It is a wonderful way to encourage them as well as build confidence as a writer or just in expressing themselves.  It is one of my favoriate sections of the Newsletter. If you wish to receive a copy feel free to eail us or leave a comment with your email address and I will contact you to get mailing information to send out a copy of the Newsletter to you. 

I will be sharing more on Information about the Freedom Outreach Ministry as the months go on.  Please stay turned.
 As the months go on we will be sharing more on this subject and others.  God bless and keep you all until we speak again.
from the desk of:
~*Sister Soldier*~

/